Picture Manager For Excel

Picture Manager For Excel v2.0 is an add-in software for Windows-based systems that provides a necessary control when working with images in Microsoft Excel.
Easily automate the ability to extract, save, delete, import and embed images in bulk into Excel with just a few clicks. Existing Excel image assistant properties can quickly be applied prior to processing your images, so you do not have to spend the time it takes to administer settings to each image one by one. Also supported are the favorable sort and filter capabilities without the distress of overlapping photos. Picture Manager For Excel is not an Excel macro or VBA code snippet with one or two functionalities; it is a complete automation solution with an intuitive graphical user interface.
Export and Insert Pictures into Excel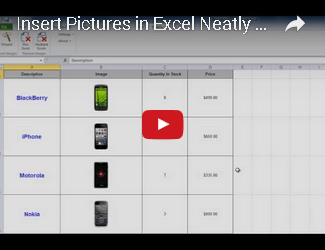 Program key functions
Single Excel Spreadsheet Image Insertion
Batch insert pictures into Excel, regardless of how you have merged the cells within your spreadsheet by selecting the images or by referencing the file name of the image somewhere on the worksheet (limit: the number of lines available in Excel).
Multiple Excel Workbooks Image Insertion
Bulk import images into Excel, regardless of how many Excel workbooks you need to populate by referencing the file name of the picture somewhere on the worksheet (no limit) or by using the Excel file name as the reference to the image (no limit).
Single Excel Spreadsheet Image Removal
Instantly remove all pictures from Excel worksheet.
Multiple Excel Workbooks Image Removal
Effortlessly delete all images from multiple Excel workbooks.
Single Excel Workbook Image Extraction
Quickly save images from Excel. Automatically associates an image with a file name from a cell and extracts all pictures to a directory with that file name. NEW
---
Product requirements
Operating system requirements:
Microsoft Windows XP
Microsoft Windows Vista
Microsoft Windows 7
Microsoft Windows 8
Microsoft Windows 8.1
Microsoft Windows 10
Software requirements:
Microsoft Office Excel 2003
Microsoft Office Excel 2007
Microsoft Office Excel 2010
Microsoft Office Excel 2013
Microsoft Office Excel 2016
Microsoft Office Excel 2019
Microsoft Office Excel 365 (Cloud version)
Microsoft .NET Framework version 3.5
Administrator privileges for the installation.
Internet connection for setup and license activation.
---
Add-in download and purchase
Version – 2.0
Lifetime License – $39.99 per computer – (Volume discount available at checkout)
Platform – Microsoft Windows
Built for Microsoft Office Excel 2003, 2007, 2010, 2013, 2016, 2019 and 365

Download Picture Manager For Excel add-in software from the link below and run the setup for the Microsoft Office Excel version you are using.

Download Picture Manager For Excel v2.0
NOTE: due to limitations of Office Excel 2003 the Export function is not supported … Free evaluation version of Picture Manager For Excel does NOT insert the actual images. To unlock all restrictions on the demo software, purchase a license today and enjoy the time-saving benefits of automating your picture insertion and extraction in Excel.
External mirror : DOWNLOAD.COM